Vintage Patina
Kit includes:
10 backgrounds 12 x 12

1 distressed rectangular copper frame

1 distressed rectangular floral frame

1 distressed square floral frame

1 rectangular copper verdigris frame

1 square copper verdigris frame

1 square rose patterned frame

1 bronze verdigris ornament

1 ceramic flower

1 spray of copper leaves

1 copper verdigris clip

1 copper verdigris heart pendant

1 copper verdigris bird pendant

1 distressed copper swirl

1 distressed flourish seal

1 glass pendant with flower

1 jewelled bow

1 rusty old key

1 old marbled envelope in 2 pieces

1 sheet of old marbled folded paper

1 painted butterfly

1 sepia silk flower

1 tarnished silver brad

1 verdigris dragonfly

1 vintage clock


This richly textured kit is a tribute to the beauty of vintage patina, not only to its wonderful subtle changes in colour but to its uniquely distressed patterns. Due to its mainly autumnal shades it makes a beautiful environment for autumn layouts but it´s also ideally suited to display your sepia tinted heritage photos. Please see detailed images for larger previews and examples of use.
You can find Vintage Patina here:
http://www.deco-pages.com/product.ph...cat=373&page=1
Kit freebies can be found here:
http://board.deco-pages.com/forums/s...1765#post91765
Please note that all kit freebies are only available for a limited period.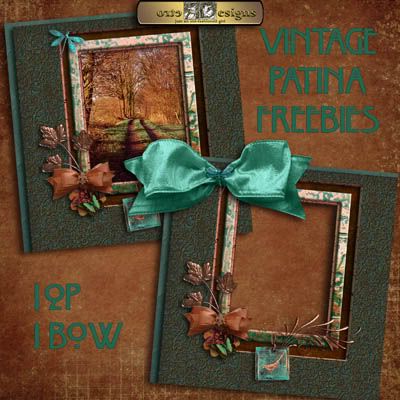 Layout Of The Day
Just by submitting your layouts to the gallery each day, you could be chosen for Layout Of The Day (LOTD)...so start adding your layouts, show us what you've got! Go here to take a look at some recent LOTD selections!
There is something for everyone at
Deco-Pages.com
Stop in and
Let us help you to always remember!
We appreciate you being part of our community.
Thank You!
Deco-Pages.com

Other Links of Interest:
Monthly Newsletter:
http://deco-pages.com/pages.php?pageid=7
Gallery:
http://board.deco-pages.com/
Facebook Group:
http://www.facebook.com/group.php?gid=8672640733
Digital Scrapbook Connection:
http://www.digitalscrapbookconnection.com/
Deco-Pages Blog:
http://deco-pages.blogspot.com/