There's still plenty of time left in August to join in some fun challenges with great rewards at Deco-Pages.com!



With the kids heading back to school soon, you will want to check out
the
August 2010 Quote Ch
allenge hosted by Designs By Abbe. Create a LO using this quote: "
The whole purpose of education is to turn mirrors into windows." ~Sydney J. Harris

Your reward will be
this
fun kit, School is Cool! Go here for all the details!
There are many more challenges at Deco-Pages...click here to see all challenges and rewards!

Did family reunions and gatherings this summer bring thoughts and memories of family members from years past? Check out this new kit at Deco-Pages!


Family Tree by Deb Ammerman
Love a good heritage style kit...this one sure fits the bill. Family Tree is perfect for all those old photos you might find in your Grandma's Attic!

Create heritage pages to be shared with future generations!






Kit Includes:
30 Digital Scrapbook Papers
(5 Designs in 5 Color Options)
Buttons
Envelopes
Cloth Flowers with button centers
Miniature flowers with leaves & berries
(3 color options)
Journal Tag (5 Color Options)
Paper Flower w/Stitched center
Photo Wrap Ribbon (5 Colors to choose from)
Folded Ribbon (3 Colors)
Folded Ribbon with greenery (3 Colors)
2 Tree Silhouettes (5 colors to choose from)
Tree with Buttons (2 Colors)
Trim in Three styles and 5 color options.

You can find Family Tree here:
http://www.deco-pages.com/product.ph...0&cat=0&page=1

Here's another very versatile kit at Deco-Pages that would also be great for scrapping
heritage photos of your family members that bring some golden memories to mind!
Golden Memories by Retro Designs

Kit includes:
10 backgrounds 12 x 12
1 black and gold filigree frame
1 black lace frame
1 flocked flourish frame
1 gold frame with hanger
1 organza frame
1 ornate oval frame
1 red and gold silk frame
1 aqua flourish tag
1 cream swirls tag
1 black and gold floral cluster
1 tarnished bronze insect
1 gold and silver clock
1 gold filigree bird
3 gold filigree butterflies and flower cluster
1 ornate gold corner
1 gold floral swirl
1 gold flower
1 gold sequinned bow with brooch
1 red sequinned bow with cameo
1 strip of green and gold braid
1 iridescent brooch
1 metallic gold bow
1 red silk flower
1 sparkling beaded butterfly
1 tarnished floral pendant with aqua bead

This golden art nouveau influenced kit contains many elements based on original turn of the century jewellery and trinkets such as an ornate gold and silver clock and a tarnished floral pendant. Also, many of the backgrounds are adapted from Victorian embroidery and wallpaper. Other elements such as the sparkling beaded butterfly and the ornate bows are ageless, making this versatile kit a suitable setting not only for your precious heritage photos but also for more modern themes. Pl
ease see detailed images for larger previews and examples of use.

You can find Golden Memories here:
http://www.deco-pages.com/product.ph...cat=373&page=1
Golden Memories Kit Freebies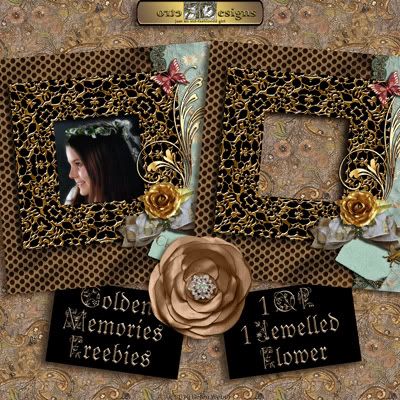 If you´d like these kit freebies, you´ll find them here:

http://board.deco-pages.com/forums/s...1370#post91370

Please note that these freebies are available for a limited time,
so follow the above link and head on over the Deco-Pages today!


Boo-Boos And Band-Aids
The August 2010 Club Deco
Mega Kit:
Click here for previews of a few of the contributions from our Design Team!
http://www.deco-pages.com/news.php

You can get this mega kit at a great price by joining
CLUB DECO today! We have 2 options available for our members which include: 3 months for $15.00 one time fee or 1 month for $7.00 a month. Take a look at these previews and then
click here to join Club Deco today!
Don't forget to stop by each day for your Download-A-Day Freebie.
You'll find
DAD in the Forum
and it is FREE for our community membership!
There is something for everyone at
Deco-Pages.com
Stop in and
Let us help you to always remember!
We appreciate you being part of our community.
Thank You!
Deco-Pages.com

Other Links of Interest:
Monthly Newsletter:
http://deco-pages.com/pages.php?pageid=7
Gallery:
http://board.deco-pages.com/
Facebook Group:
http://www.facebook.com/group.php?gid=8672640733
Digital Scrapbook Connection:
http://www.digitalscrapbookconnection.com/
Deco-Pages Blog:
http://deco-pages.blogspot.com/
__________________